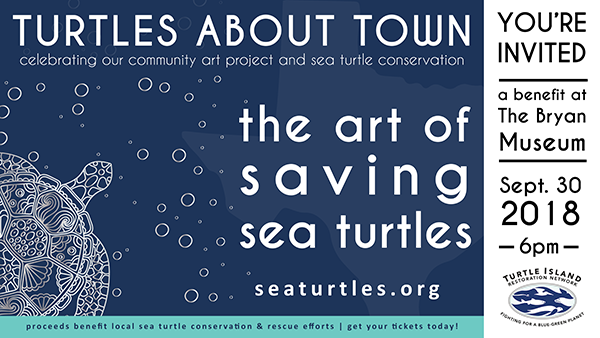 Special Event: The Art of Saving Sea Turtles
Join us for a very special event in Texas to celebrate our community art project and ongoing work to protect endangered Kemp's ridley sea turtles. Space is limited for this event. Buy your ticket today.
...and thanks to our generous event sponsors
Pete and Diane Olsen and Turtle Island Restoration Network Turtle Patrollers Bets Anderson and Madeleine Baker

A December to Remember: Cocos Island Research Expedition
Join us to save sharks and sea turtles while having the experience of a lifetime! Spots are filling up for our December conservation research expedition at Cocos Island National Park in Costa Rica. Cocos Island was recently named the "best place to dive with sharks" by CNN and our vessel the "best liveaboard" in the world by Dive Magazine. Make this a December to remember!

Take Action:

Help End California's Driftnet Fishery
California's driftnet fishery kills dolphins, whales, sharks, and many other marine species. Right now we can end this fishery forever. With your support, we are asking the California Assembly to vote yes on a bill to end the driftnet fishery. Send an email today and help marine wildlife!

Reclaiming Habitat: Our Coho Salmon Restoration Project
SPAWN has recently broken ground on our most ambitious habitat restoration project yet, to restore a mile-long reach of Lagunitas Creek. The goal of this project is to ensure Coho Salmon remain part of our landscape for generations to come. Learn about this project.

Urgent Alert:

Defend the Endangered Species Act
The US Endangered Species Act is under attack by Trump's government agencies. Help us fight for America's strongest endangered species law. Add your name to our petition today.

Protecting Sea Turtles Across Borders
This month our Gulf of Mexico staff traveled to Mexico to the largest Kemp's ridley sea turtles nesting beach in the world. We traveled there to meet with biologists and learn best practices that we can bring back to the beaches of Galveston. Learn about this exchange.
We are exploring the idea of re-establishing a green sea turtle nesting colony on the island of Lanai. To help us establish a baseline of nesting activity and to assess habitat, we've been conducting aerial surveys over the past several months. Read more about this research and some surprising finds.