The next generation of coho salmon eggs are now resting, protected by six inches of gravel at the bottom of Lagunitas Creek. While that's a wrap on coho spawning season in West Marin, we have a lot of great adventures to reflect back on. Read more.

On January 1, 2018, the San Geronimo Golf Course ceased operations and shortly thereafter the 157-acre property ownership was transferred to the Trust for Public Land, who brokered the deal on behalf of the Marin County Parks department, which aims to take ownership over the next couple years. Read more.
Volunteers with our Salmon Protection and Watershed Network (SPAWN) program have started the year in full force! In January alone we've had over 50 volunteers assist in our native plant nursery and in the field with our restoration events. Read more.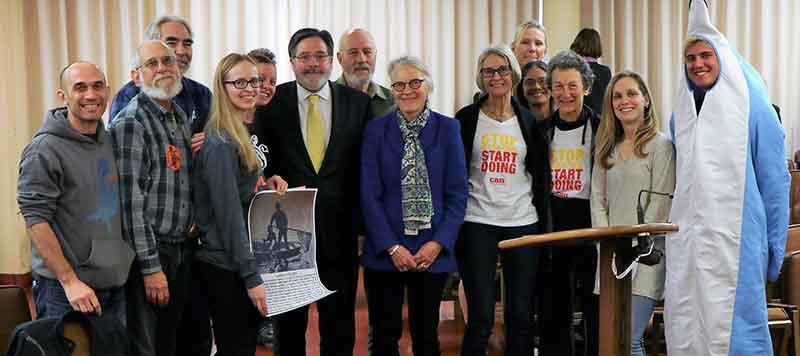 The Marin County Board of Supervisors approved a resolution on January 30, 2018, opposing new drilling off the California coast and fracking in existing offshore oil and gas wells. We asked for your support (you delivered!) and we attended the meeting. Read more.

The first redwood sprouts of the year have just started to emerge in our plant nursery. Adopt a redwood today!
---
Volunteer Opportunities
February 10 and February 24: Habitat Restoration Day Join us as we restore and re-create riparian habitat that provides much needed shade for young salmon and trout in our local waterways. Activities involve bending, digging and carrying water. Visit our Facebook page or email preston@tirn.net.
Every Friday,

10am - 2pm

: Nursery Volunteer Day Meet at our headquarters near Olema, CA and help care for thousands of native plants and then take a stroll with us as we collect wild seeds. Please join us for a great time with very skilled botanists. Email audrey@tirn.net.