View this email in your browser
Washington Post article on our action on October 12th.
Hi Ed,
On October 12th — during Procter & Gamble's (P&G) annual general meeting — I organized a demonstration outside its headquarters in Cincinnati, alongside our friends at Rainforest Action Network and the Cincinnati faith community. We heard Indigenous and frontline communities share their stories about how P&G's sourcing practices have harmed their lands and livelihoods.
As part of the Stand.earth community and as someone who has been part of this campaign from the beginning, you know that our call to action has always been clear: P&G must stop sourcing its pulp for its Charmin toilet paper from intact forests and start respecting Indigenous communities' lands and rights.
Highlights from the action on October 12th in Cincinnati
Over the past three years, we've pulled countless actions in and around Cincinnati, we've sent tens of thousands of emails to P&G, and most importantly we've kept P&G on its toes. And believe me, keeping a $230 billion corporation on its toes for three years is no easy feat, but hey, that's what the Stand community does best.
Thanks to our collective push, P&G has been forced to respond in ways that it has never had to before when it comes to Free, Prior and Informed Consent (FPIC). And the company announced its new grievance policy and a new (but still seriously lacking) wood pulp sourcing policy.
P&G's new wood pulp sourcing policy could use a little bit of help, so I thought I would edit it for the company.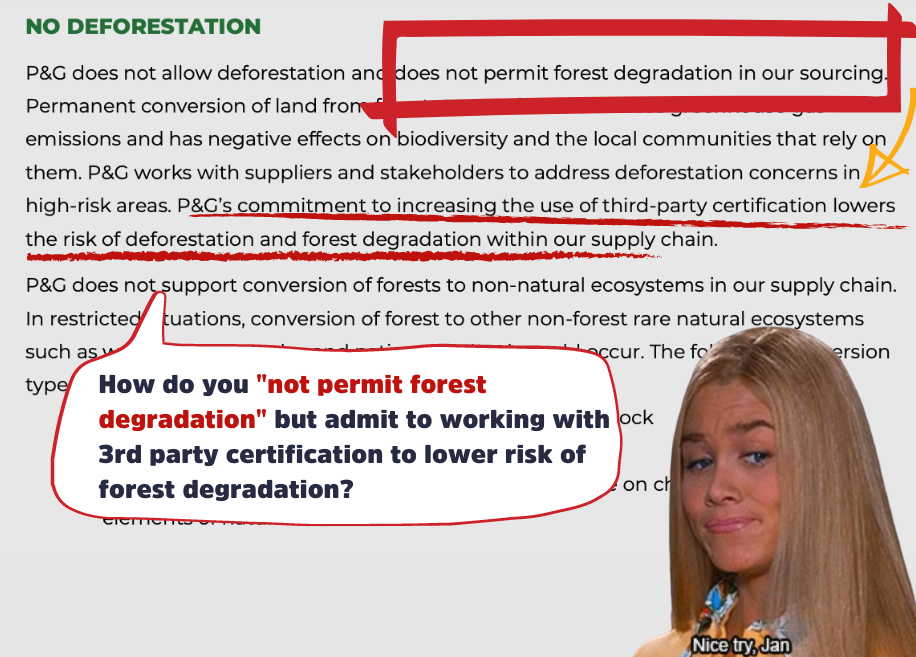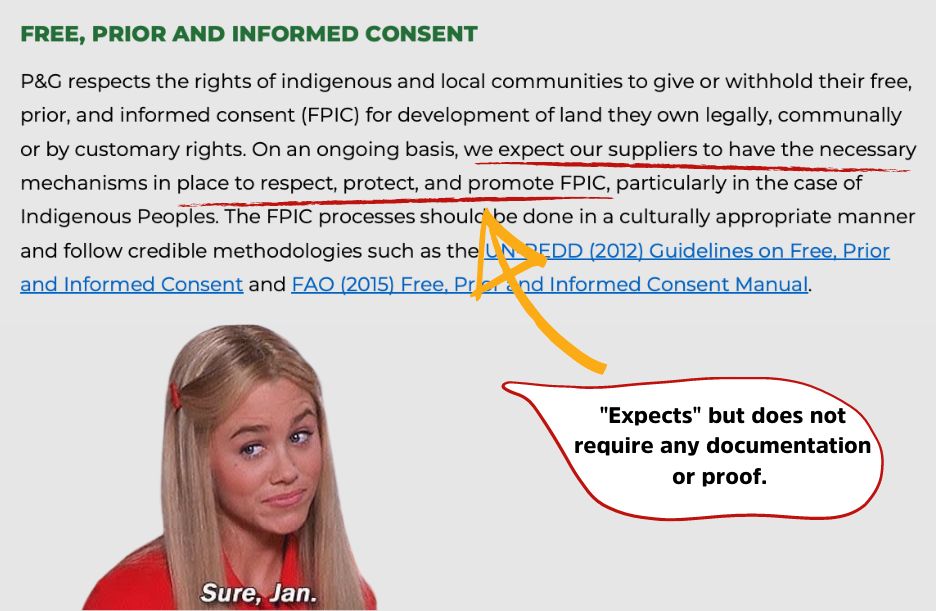 P&G claims to "not permit forest degradation" but it still buys some of its pulp from suppliers logging primary forests (which counts as degrading forests contrary to its new policy). Despite writing new policies, P&G's new guidelines lack transparency, accountability, and timebound commitments in key areas. Words on paper are meaningless unless the company is able to to ensure that we, as consumers, aren't impacting some of world's most climate-critical forests for everyday household products that can be made with alternatives. The bottom line? P&G continues to work with suppliers logging in critically threatened species habitats and primary forests.
We need decision-makers and government policies to better protect forests from corporate interests. With world leaders promising to end deforestation by 2030, Canadian officials must listen to Indigenous, forest, and faith communities and stop forests in Canada from being turned into toilet paper (and wood pellets – stay tuned for more on that).
Hearing the stories from frontline communities – about how the impact of deforestation has led to devastating floods that has wiped out their food harvests and uprooted their homes – fills me with determination to continue to push P&G for better policies.
The Stand community is now over a half million strong (and growing!) and we're sticking true to our origins and protecting forests and holding corporations accountable.
Thank you, Ed, for all that you do.
Jen Mendoza
Forest Organizer
Stand.earth
P.S. Read the Washington Post article on our action in October.