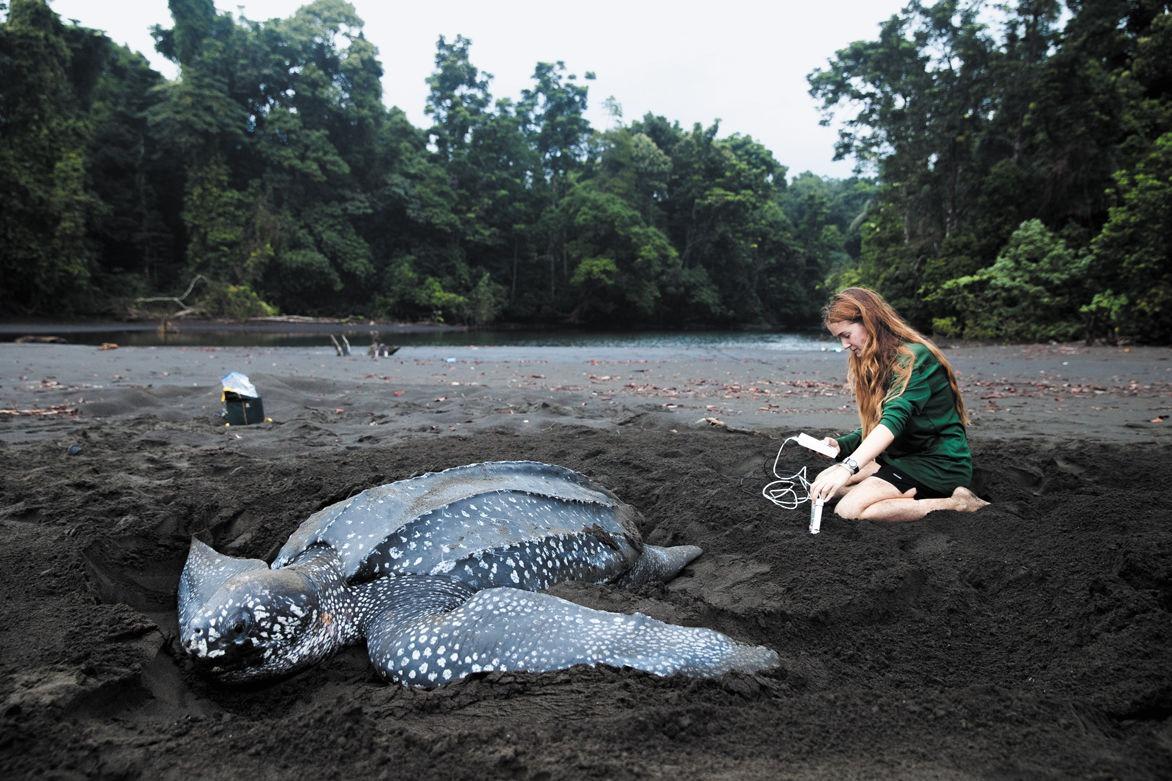 Leatherback Biologist Joins Turtle Island Restoration Network
Callie Veelenturf, a marine biologist, has joined TIRN: "Our goal is to work towards reversing the extinction trajectory that East Pacific leatherback sea turtles now face in the region as a result of anthropogenic pressures that include climate change, capture in fishing gear, and destruction of nesting habitat." Read more here.

Reps.

Lieu and Fitzpatrick Introduce Act To End Driftnets

Pictured: A blue shark drowns in a driftnet off the coast of California. Earlier this week, Congressman Ted W. Lieu (D-Los Angeles County) and Congressman Brian Fitzpatrick (R-PA), rolled out the bipartisan Driftnet Modernization and Bycatch Reduction Act, which would phase out the use of driftnets off the coast of California. The measure is the House companion to S.2773, which was introduced by Senators Dianne Feinstein (D-CA), Kamala Harris (D-CA), and Shelley Moore Capito (R-WV). Read more here.

Court Orders Swordfish Fishery To Close To Protect Loggerhead Sea Turtles
"We scored a victory for loggerhead sea turtles," said Todd Steiner, biologist and executive director of Turtle Island Restoration Network. "For decades the Hawai'i longline fishery has gotten away with killing and injuring sea turtles, seabirds and marine mammals. A healthy ocean belongs to all of us and shouldn't be threatened by a small group of industrial fishing vessels." Read the rest of the story here.

5 Tips for Effective Ocean Advocacy
Advocacy is a show of public support for a policy or cause. In our case, it's actually a combination of many various displays of support for ocean-friendly policies. We never know what will tip the scales in favor or against our causes, which is why it's important for everyone who's invested to make their voices heard in every way they can. Together, we are strong, united in our diversity, and a force to be reckoned with. In our #BanDeathNets campaign, we utilized many forms of speaking out, informing, lobbying, and advocating. View our 5 tips here.

Balloon's Blow. Don't Let Them Go!
On May 1, a critically endangered juvenile Kemp's ridley was discovered in the surf on the west end of Galveston with her flipper entangled in a shoestring attached to a trash can. And on May 3, a juvenile Kemp's ridley sea turtle washed up on the Texas coast entangled in balloon strings... Read more.

Marine Debris Cleanups: Every Piece Counts
There's a beautiful bay on Maui's northeastern facing shore called "Ka'ehu", where endangered species are spotted and Hawaiian practitioners can still connect with their past. Unfortunately, an endless supply of marine debris washes ashore here, scarring the beachscape. Read more.
Join us to save sharks while having the experience of a lifetime! This unique conservation research expedition at Cocos Island National Park in Costa Rica is part of TIRN's ongoing, long-term research and conservation efforts in Latin America. Cocos Island was recently named the "best place to dive with sharks" by CNN and our vessel the "best liveaboard" in the world by Dive Magazine. Come see why!
We're embarking on a restoration project at our headquarters in Olema, California to recover a lost floodplain that was buried under 20 feet of dirt dumped in a river corridor decades ago. Read more here.