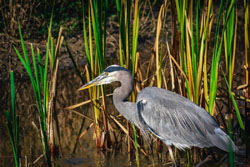 Coastal resilience (v): to build the ability of a community to "bounce back" after hazardous events such as hurricanes, coastal storms, and flooding.
Over the past decade, the need to protect our Nation's coastlines has become one of the most critical and immediate challenges we face. Due to increasingly frequent and intense coastal storms, flooding, land subsidence, and sea level rise, our coastal habitats are literally disappearing, impacting people and wildlife at an alarming rate!
In 2020 the United States experienced a record of 22 billion-dollar events, which totaled $95 billion in damages. This marked the tenth consecutive year with more than eight climate-driven disasters that cost over a billion dollars. At the same time, the lower 48 states lose 80,000 acres of coastal wetlands each year due to sea level rise, storms, and coastal subsidence – (roughly seven football fields every hour). This rate of wetland loss is particularly alarming in the context of a post-hurricane Sandy assessment that demonstrated that roughly $625 million in damages were offset because of the protective value of coastal wetlands. The National Wildlife Federation, with its longstanding role and demonstrated success at facilitating landscape scale conservation efforts, is uniquely qualified to address this coastal resilience crisis.
What is The Coastal Resilience Growth Fund (CRGF)? While the name may not be splashy, the work that it makes happen is! CRGF confronts this crisis head on to save what we share by scaling-up the impact of our innovative solutions to save our coasts. We are expanding our capacity to make regional scale impact initially focusing on Chesapeake Bay, Delaware Bay, and the NY/NJ coastline.
Sounds like a big goal, and it is. And, we have a plan!
Advance Critical Policies: We will advocate for State and Federal policies that provide for programs and incentives to expand nature-based infrastructure.
Focus on front-line communities: We will mitigate the specific barriers that frontline communities face in protecting their coastlines and accessing nature.
Boots on the ground: We will implement our innovative nature based model which not only protects coastlines, but provides new and resilient habitats for wildlife.
With collaboration at the heart of our organizational DNA, we are committed to working across sectors, and across the aisle, to advance outcomes that protect our coastal habitats and the human communities and wildlife that depend on them.
Please consider supporting our work. Contact Jennifer Parkos, [email protected]