What can you do to achieve your resolutions in 2022? ‌ ‌ ‌ ‌ ‌ ‌ ‌ ‌ ‌ ‌ ‌ ‌ ‌ ‌ ‌ ‌ ‌ ‌ ‌ ‌ ‌ ‌ ‌ ‌ ‌ ‌ ‌ ‌ ‌ ‌ ‌ ‌ ‌ ‌ ‌ ‌ ‌ ‌ ‌ ‌ ‌ ‌ ‌ ‌ ‌ ‌ ‌ ‌ ‌ ‌ ‌ ‌ ‌ ‌ ‌ ‌ ‌ ‌ ‌ ‌ ‌ ‌ ‌ ‌ ‌ ‌ ‌ ‌ ‌ ‌ ‌ ‌ ‌ ‌ ‌ ‌ ‌ ‌ ‌ ‌ ‌ ‌ ‌ ‌ ‌ ‌ ‌ ‌ ‌ ‌ ‌ ‌ ‌ ‌ ‌ ‌ ‌ ‌ ‌ ‌ ‌ ‌ ‌ ‌ ‌ ‌ ‌ ‌ ‌ ‌ ‌ ‌ ‌ ‌ ‌ ‌ ‌ ‌ ‌ ‌ ‌ ‌ ‌ ‌ ‌ ‌ ‌ ‌ ‌ ‌ ‌ ‌ ‌ ‌ ‌ ‌ ‌ ‌ ‌ ‌ ‌ ‌ ‌ ‌ ‌ ‌ ‌ ‌ ‌ ‌ ‌ ‌ ‌ ‌ ‌ ‌ ‌ ‌ ‌ ‌ ‌ ‌ ‌ ‌ ‌ ‌ ‌ ‌ ‌ ‌ ‌ ‌
What Do Variants Like Omicron Mean for the Future?
As the COVID-19 pandemic continues, many questions remain. Infectious disease specialist Jared Eddy, MD, offers insights into why the virus is here to stay and how to continue to keep our families safe.
Two new medications have been authorized for emergency use and are the first COVID-19 treatments that can be taken at home. "They could be game changers," said Dr. Lyn-Kew.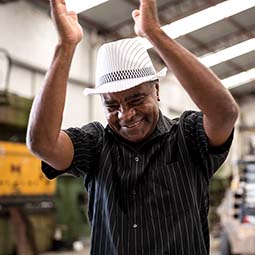 With proven strategies, quit chances increase dramatically. Find out how our program has helped over 2 million people with their quit.
Violent coughing episodes were his daily norm, but with a thorough diagnosis and new emerging therapies, Tom has new hope.
COVID-19 Care
Our specialty care clinics are open and ready to serve you, including regular care, COVID-19 recovery, testing and treatment for adult and pediatric patients. We are also administering Pfizer vaccine to adults and children.
Vaccine Info | Testing Info | COVID-19 Care | Make an Appointment


Blood Test May Reduce the Need for Lung Nodule Biopsies
Researchers want to know if a new blood test for patients with lung nodules may reduce the need for physicians to order lung nodule biopsies or invasive procedures. Learn more.