Is there a down side to hand sanitizer? ‌ ‌ ‌ ‌ ‌ ‌ ‌ ‌ ‌ ‌ ‌ ‌ ‌ ‌ ‌ ‌ ‌ ‌ ‌ ‌ ‌ ‌ ‌ ‌ ‌ ‌ ‌ ‌ ‌ ‌ ‌ ‌ ‌ ‌ ‌ ‌ ‌ ‌ ‌ ‌ ‌ ‌ ‌ ‌ ‌ ‌ ‌ ‌ ‌ ‌ ‌ ‌ ‌ ‌ ‌ ‌ ‌ ‌ ‌ ‌ ‌ ‌ ‌ ‌ ‌ ‌ ‌ ‌ ‌ ‌ ‌ ‌ ‌ ‌ ‌ ‌ ‌ ‌ ‌ ‌ ‌ ‌ ‌ ‌ ‌ ‌ ‌ ‌ ‌ ‌ ‌ ‌ ‌ ‌ ‌ ‌ ‌ ‌ ‌ ‌ ‌ ‌ ‌ ‌ ‌ ‌ ‌ ‌ ‌ ‌ ‌ ‌ ‌ ‌ ‌ ‌ ‌ ‌ ‌ ‌ ‌ ‌ ‌ ‌ ‌ ‌ ‌ ‌ ‌ ‌ ‌ ‌ ‌ ‌ ‌ ‌ ‌ ‌ ‌ ‌ ‌ ‌ ‌ ‌ ‌ ‌ ‌ ‌ ‌ ‌ ‌ ‌ ‌ ‌ ‌ ‌ ‌ ‌ ‌ ‌ ‌ ‌ ‌ ‌ ‌ ‌ ‌ ‌ ‌ ‌ ‌ ‌
New Vaccine Approval & Important Guidance for Kids
Children ages 5 to 11 can now get vaccinated for COVID-19. "If we're ever going to get COVID under control, we need to be able to vaccinate as much of this population as possible. This was a good development," said Nathan Rabinovitch, MD.
Is immunity improved by mixing and matching vaccine types? Carrie Horn, MD, answers important questions about current vaccination guidelines.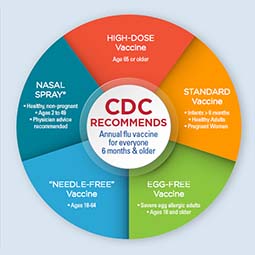 Egg free? High dose? Needle free?! Check out our new infographic to find out which flu shot is right for you and your family.
Increased hand hygiene has been a lifesaver during the COVID-19 pandemic, but is there also a negative side to hand sanitizers?
Vaccine Update
We are now offering Pfizer vaccine to children 5 to 11 by appointment only.
We are administering first- and second- dose Pfizer vaccine on a walk-in basis to those age 12 years and older. Boosters are available by appointment only.
Learn More About Getting Vaccinated at National Jewish Health


How much do you know about COPD?
National Jewish Health researchers want to understand what people with COPD know about their disease. Learn More